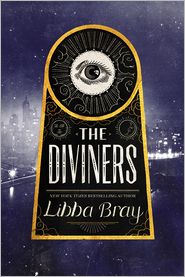 The Diviners
By: Libba Bray
Release Date: September 18, 2012
Publisher: Little Brown
My Rating:

The Summary (via jacket copy):
Do you believe there are ghosts and demons and Diviners among us?
Evie O'Neill has been exiled from her boring old hometown and shipped off to the bustling streets of New York City–and she is pos-i-tute-ly ecstatic. It's 1926, and New York is filled with speakeasies, Ziegfeld girls, and rakish pickpockets. The only catch is that she has to live with her uncle Will and his unhealthy obsession with the occult.
Evie worries he'll discover her darkest secret: a supernatural power that has only brought her trouble so far. But when the police find a murdered girl branded with a cryptic symbol and Will is called to the scene, Evie realizes her gift could help catch a serial killer.
As Evie jumps headlong into a dance with a murderer, other stories unfold in the city that never sleeps. A young man named Memphis is caught between two worlds. A chorus girl named Theta is running from her past. A student named Jericho hides a shocking secret. And unknown to all, something dark and evil has awakened…
The Story:
The Diviners is a spectacular book in its in depth of story and immense number of pages. For me the realistic nature of the setting and time period really helped absorb me in the complex story-line and also the characters. Bray writes so beautifully and vividly, you feel like you are watching a film as you read. If the story took in present day I'm not sure the book would have appealed to me as much as it does taking place in the 1920's in New York. As I mentioned the story is a complex one. You know as you read that even though the book is mammoth in size you aren't going to be able to close the door on all the questions asked. Characters are introduced and you gain insight into their lives but you don't see exactly how they will tie into the main story arc. To me, it had the feel of a mini-series where stories are introduced and you dive into character growth but its build up for what's to come in the major plot. To me, the pacing was slow but engaging. The last fifty pages or so did seem to drag because they felt like their main purpose was to set up things for book two.
The Characters:
Bray does a wonderful job creating multidimensional characters that each have a unique voice. I really enjoyed Evie's arc in The Diviners. When I started reading from her point of view I was thrown off by her 20's lingo (phrases like: you bet-ski) but it ended up growing on me and I actually found humor in some of what she says. Evie does a large amount of growing and self discovery as the novel proceeds. She begins as a rather self centered and demanding person, or at least that's the façade she presents. She is described by another character as,
She was a little spoiled and often selfish, a good-time girl with a surprising kind streak
As you read more about her you realize she is much more than what she presents. Her arrival in New York to stay with her Uncle Will (or as she refers to him Unc–to his jargon) gives her an outlet to show a deeper side of her character and gives her purpose that she didn't have back at home.
We spend a good amount of time reading from Memphis' perspective as well. He has had a rough life but is doing what he can to keep him and his younger brother Isaac together. Memphis is haunted with nightmares and a deep guilt that stemmed from his past.
Bray creates an incredibly scary villain in John Hobbes aka Naughty John. He was the least dimensional character in that he only presented one side, that of evil. I don't think you can read The Diviners without having his signature tune stuck in your mind,
Naughty John, Naughty John, does his work with his apron on…
Really not something I want to be thinking all day, but it goes to show the intensity and horror Bray creates with her villain. The Diviners has a rather large cast and Bray took time to flesh out all the characters.
Final Thoughts:
Be warned the book has some animal cruelty. It seemed unnecessary to me because I think it could have been avoided. its not overly graphic but I tend to be very disturbed by any violence committed to animals.
The Diviners book trailer:

Buy this book:
Amazon

Barnes and Noble