If you've followed me you've seen me singing the praises of Mary E. Pearson's latest book, The Kiss of Deception. Beyond the incredibly gorgeous cover, Pearson has created a rich fantasy world populated with memorable and engaging characters-including a princess, prince and an assassin. I easily fell in love with the entire cast and Pearson's writing. You might have read some of her previous work and if not you should get her on your to read lists now.

I am honored and thrilled to have her visiting My Friends Are Fiction today and answering my questions.
Your main character, Lia, is headstrong and instead of accepting her fate she decides to go against all odds to change her future and live the life she has dreamed of. Could you tell us about your inspirations behind her character?
I love reading and writing about strong women, because well, I know so many.  Lia knows what she wants.  Why shouldn't she be able to go after it with the same gusto as a man pursuing his goals?  She wants a life that she alone controls, and she wants to speak out without being shushed.  I can get behind that.
I am always interested in the research that goes into writing a novel. What type of things did you research for TKoD? Anything exceptionally odd you learned?
With my Jenna Fox books I did a lot of research at the library, reading books and journals because of the technology I was researching, but with The Kiss of Deception, many of the things I was looking for were obscure details, so very often I had to look on the web. I searched for things like endurance riding, tactics for tracking people, the history of harvesting ice and transporting it; and the mechanics of knife throwing–there were tutorials on youtube which were very helpful! I also read books on medieval, colonial, and country life. I even researched how to fix a dislocated shoulder if there is no doctor available (awful and painful!) but that, like a lot of the research, didn't end up in the final book, because I never know for sure what I'll need until I'm actually writing a scene.
The Kiss of Deception is the first of The Remnant Chronicles. Looking up 'remnant' it has a religious connotation or means, "a small remaining quantity of something" Can you give us any details to how the series title came about?
In the ancient history of the people of this world, there was a great "devastation" where only a very few of these people survived.  The few who did make it, called themselves the remnant—the people who were left. It's not unlike the many flood stories found in history and across cultures.
You've mentioned that you have a background in art. Could you tell us some about that? (Perhaps we could see some examples?)
I have a BFA in illustration and worked for a time as a commercial artist and graphic designer back in the days when it was all hand done. There was no photoshop or computer art back then. I have a dusty portfolio somewhere in the storage area under my stairs that I haven't seen in years, buried under who knows what. Someday I'll find it.
You should find your old artwork! It's always so much fun to look back at what was worked on long ago.
Since you are an artist do you ever illustrate your characters or settings?
Well, I'm no longer an artist, and in fact, I worked as one for a very short time so my skills are quite limited, but I do chicken scratch drawings of settings to help me understand the world of my characters.  I'm a very visual thinker, so I need to "see" where they move, live, and breathe.  I love Pinterest for that reason. I've collected a lot of images and I pin them to my bulletin board in my office to help me fall into my character's world.
Speaking of artwork, recently we were able to see the beautiful map for TKoD. Did you have any input into how it was designed?
Yes.  I actually create maps for all my books too, both the macro and micro. Some chart vast continents, some the layout of a single room, but that way I have a reference that is consistent as I write the story.  What is ten miles away in chapter two, is ten miles away in chapter fifty–because it's easy to forget these things! It also makes my character's world more real for me.  The setting of TKOD is quite specific so when my publisher said they were going to create a map for it, they also asked for the maps I had drawn.  Mine were very basic, magic marker utilitarian maps for reference purposes only.  Keith Thompson, used my maps as a rough guide for the gorgeous one he created.
And yes, speaking of artwork, I simply adore the Lego cover that you made for The Kiss of Deception.  I hope one of these days that you'll share how you create these Lego covers. (hint hint)
Thank you so much! I knew the moment I saw the cover that it would be something we'd want to work on for the Lego covers. Then after reading, I fell head over heels in love with the story. One day we'll probably do a post where we talk about the process 🙂
With all my favorite books I always hope that there will be a short story delving deeper into a character's history or from a different point of view. Can we hope for anything from the Remnant world?
I do have a story in my head that I would love to write and I think it would be such a great compliment to the series, but whether that happens remains to be seen.  The Remnant books are not exactly short ones.  They take me a long time to write and the books always get priority, but if time avails itself for a shorter story in between, I have it in my head ready to go.
Thanks for hosting me on your blog today, Kris!
Fingers crossed we'll see the short story at some point–now I'm so curious.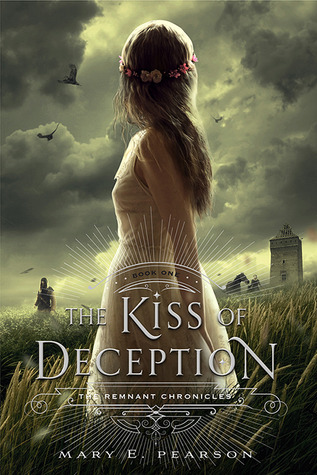 Summary:
In a society steeped in tradition, Princess Lia's life follows a preordained course. As First Daughter, she is expected to have the revered gift of sight—but she doesn't—and she knows her parents are perpetrating a sham when they arrange her marriage to secure an alliance with a neighboring kingdom—to a prince she has never met.
On the morning of her wedding, Lia flees to a distant village. She settles into a new life, hopeful when two mysterious and handsome strangers arrive—and unaware that one is the jilted prince and the other an assassin sent to kill her. Deception abounds, and Lia finds herself on the brink of unlocking perilous secrets—even as she finds herself falling in love.
Author Links/Info
-Follow Mary Pearson on Twitter!
-Check out her website!
–Read an excerpt of Kiss of Deception now!
Giveaway:
Macmillan has been generous enough to allow me to give one hardcover copy of The Kiss of Deception to one of you. This giveaway is US/Canada only.
a Rafflecopter giveaway

The Kiss of Deception Blog Tour Schedule
Monday July 7
Icey Books (Review)
The Starry-Eyed Revue (Guest Post)
Tuesday July 8
Adventures of a Book Junkie (Review)
Cuddlebuggery (Guest Post)
Wednesday July 9
FicFare (Review)
Two Chicks on Books (Guest Post)
Thursday July 10
Winterhaven Books (Review)
Tales of a Ravenous Reader (Guest Post)
Friday July 11
MundieMoms (Review)
Alice Marvels (Guest Post)
Monday July 14
YA Bibliophile (Review)
Bewitched Bookworms (Guest Post)
Tuesday July 15
That Artsy Reader Girl (Review)
Jenna Does Books (Guest Post)
Wednesday July 16
ExLibris (Review)
My Friends are Fiction (Guest Post)
Thursday July 17
Birth of a New Witch (Review)
Good Books and Good Wine (Guest Post)
Friday, July 18
Google Hangout with Mary Pearson hosted by Belle of the Literati