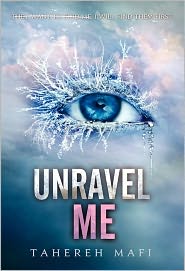 Unravel Me
By: Tahereh Mafi
Release Date: February 5, 2013
Publisher: HarperCollins
My Rating:

The Summary (via jacket copy):
tick
tick
tick
tick
tick
it's almost
time for war.
Juliette has escaped to Omega Point. It is a place for people like her–people with gifts–and it is also the headquarters of the rebel resistance.
She's finally free from The Reestablishment, free from their plan to use her as a weapon, and free to love Adam. But Juliette will never be free from her lethal touch.
Or from Warner, who wants Juliette more than she ever thought possible.
Haunted by her past and terrified of her future, Juliette knows that in her present, she will have to make some life-changing choices. Choices that may involve that may involve choosing between her heart–and Adam's life.
My Review:
I am Juliette. At least I am through the duration of the novel. Mafi's writing style, with its stream of consciousness, run-on sentences and strike throughs, puts the reader into Juliette's mind so fully you really do feel like you are her. I felt as confused as she did; I had no clue which decisions she should make and what the outcome would be from them. Its an emotional ride, but so fun and a little bit bruising to the heart. The book is like a punch in the gut, it makes you feel. I was so caught up in the storytelling and all the emotions flying around. When I finished I knew I sort of ached inside, hated that I just finished the last page and desperately wanted more.
I got Shatter Me from the library soon after it was released. I don't own it (yet) so I couldn't reread it before plunging into Unravel Me. I must admit I was a little lost in the beginning trying to wrap my brain around the characters again. It didn't take too long and it all started coming back to me. Like in Shatter Me we experience everything through Juliette's mind but this time around we get a better feel for the state of the world and its inhabitants. The writing, oh Mafi's writing, I found myself rereading sections because it was written that beautifully.  Chapter 62 that everyone has been talking about…well there is a good reason why, its perfect.
There is a love triangle between Juliette, Adam and Warner but its done very well and I feel as torn as Juliette does–which really, really surprises me since I hated Warner so much in Shatter Me. I love it when an author can make me like a character I previously hated. Mafi has created very complex characters that I think we haven't completely seen the depth of yet. There is a lot of teen angst coming from Juliette, a lot of self loathing and indecision. But its all so understandable with her history so its not bothersome, but if it does start getting to be too much for the reader Mafi has Kenji there to whip Juliette in shape and say all the things we want to say to her. Kenji is a wonderful creation that I really hope we get more of a back story from in the third book. We got a teaser of how he came to be at Omega Point, but I want so much more.
Final Thoughts:
Everything I love about the book totally eclipses anything that I could possibly dislike. Something about the characters or the writing something about these books is just incredibly addictive. I don't want out of Juliette's mind though its not the prettiest place to be. Any book that makes me angry when I turn the last page and see the acknowledgements page had to have been a wonderful read. I was seriously flipping back and forth thinking…no! I'm not ready for it to end yet.
Need more Warner? Read Destroy Me
 which takes place between Shatter Me and Unravel Me through Warner's perspective.
Buy this book:
Amazon

Barnes and Noble