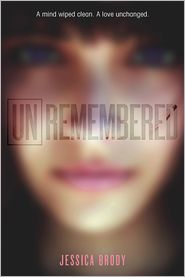 Unremembered
By: Jessica Brody
Release Date: March 5, 2013
Publisher: Farrar, Straus, & Giroux Books for Young Readers
My Rating:

Summary (via jacket copy):
When Freedom Airlines flight 121 went down over the Pacific Ocean, no one ever expected to find survivors. Which is why the sixteen-year old girl discovered floating among the wreckage-alive-is making headlines across the globe.
Even more strange is that her body is miraculously unharmed and she has no memories of boarding the plane. She has no memories of her life before the cash. She has no memories period.
Crippled by a world she doesn't know, plagued by abilities she doesn't understand, and haunted by a looming threat she can't remember, Seraphina struggles to piece together her forgotten past and discover who she really is. But every clue leads to more questions.
Her only hope is a strangely alluring boy who claims to know her from before the crash. Who claims they were in love. But can she really trust him? And will he be able to protect her from the people who made her forget?
The Story:
Unremembered was an entertaining, well crafted book that I thoroughly enjoyed. We follow the story and piece together the puzzle just as our main character Sera/Violet does; this adds for a hint of mystery and questions at each turn. I really liked where Brody took the main story arc, and to be honest, I didn't see it coming in a lot of ways. The beauty of this book to me, was following along with Sera and learning things as she did. I went into the book excited to read about a plane crash survivor and ended up reading about so much more. Its true that this type of sci-fi story has been told before but its a fun book that kept me intrigued and entertained throughout—what more could you want?
The Characters:
Though Sera is vastly naïve in the beginning of the novel it did not strike me as annoying or contrived. Her confusion was well done and realistic for her situation. I rolled my eyes a couple of times as her beauty and perfection was being harped on, but it is relevant to the story. I enjoyed Sera's foster family, Cody being the most developed. He's a great side character and his growing relationship with Sera was done well. Heather seems realistic in her attempts at welcoming Sera (Violet) and also her emerging questions and concerns.  I appreciated the kind nurse, Kiyana, having had a incredibly sweet nurse that made the experience of being in the hospital that tiny bit better myself.
As for the cast of characters from Sera's past, Zen is the one we get to know the best–though we don't get much. I wasn't blown away with him for the majority of the book but as the story unfolded I found myself liking him as well as getting behind the romantic aspect. It did feel a bit insta-love but in this context it didn't bother me or negatively affect my reading experience.
Final Thoughts:
I went into this knowing nothing about it beyond the summary and found it to be a surprising, entertaining and highly enjoyable sci-fi read.
Read the first 5 chapters free
Unremembered book trailer:

Buy this book:
Amazon

Barnes and Noble