Waiting on Wednesday is a weekly meme hosted by Breaking the Spine that spotlights upcoming releases we are highly anticipating. This week's pre-publication "can't-wait to-read" selection is: Shadows by Paula Weston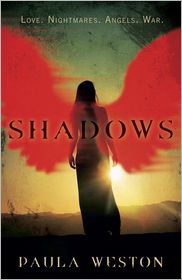 Summary (via Goodreads):
It's almost a year since Gaby Winters was in the car crash that killed her twin brother, Jude. Her body has healed in the sunshine of Pandanus Beach, but her grief is raw and constant. It doesn't help that every night in her dreams she kills demons and other hell-spawn.
And then Rafa comes to town. Not only does he look exactly like the guy who's been appearing in Gaby's dreams—he claims a history with her brother that makes no sense. Gaby is forced to accept that what she thought she knew about herself and her life is only a shadow of the truth—and that the truth is more likely to be found in the shadows of her nightmares.
Who is Rafa? Who are the Rephaim? And most importantly, who can she trust?
Why am I waiting on Shadows?
This book only came to my attention when I heard some buzz from a few trusted blogger friends. They couldn't say enough about how wonderful the story and writing was…so I knew I had to get my hands on it. The cover is gorgeous and unlike a lot of others I actually rather like angel themed books. I know this one will become a fast favorite. I can't wait to read it.
Shadows will be available in the US/Canada Fall 2013. Already available Australia, New Zealand and UK.
I will be part of the Shadows Blog Tour. My stop will be on September 20th.