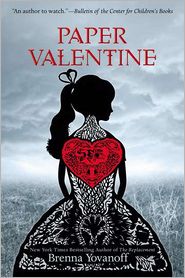 I have just started Paper Valentine by Brenna Yovanoff

Summary (via jacket copy):
I am not the kind of person who gets haunted by anything
Hannah's best friend Lillian died six months ago, and Hannah just wants her life to go back to normal. ut how can it when Lillian's ghost is haunting her bedroom, pushing her to investigate the mysterious string of murders linked only by a paper valentine? Hannah can hardly begin to understand why her friend self-destructed, and where she fits now that Lillian ins't there to save her a place among  the social elite. And she must stop thinking about Finny Boone, the big, enigmatic delinquent whose main hobbies seem to include petty larceny and surprising acts of kindness.
With the entire city in a panic, Hannah soon finds herself drawn into a world of ghost girls and horrifying secrets. She realizes that only by confronting the Valentine Killer will she be able to move on with her life–and it's up to her to put together the pieces before he strikes again.
Brenna Yovanoff also wrote The Replacement and The Space Between. This is the first novel I've read of hers.